Who are we?
Our main team consists exclusively of elite qualified lawyers, experienced in project management in the field of personal data protection and compliance. In the field of information security and other consulting competences, we are also supported by our Partners from Trusted Information Consulting.
Tomasz Gwara - Partner -
A member of the International Association of Privacy Professionals (IAPP), the Association of Personal Data Protection Firms (ZFODO) and the Association of Information Security Administrators.He completed over 100 projects implementing data protection compliance.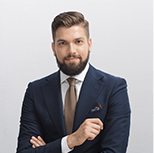 Paweł Latkowski - Partner, Account Manager -
Ewelina Gębała - Associate -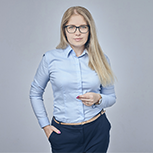 Marlena Danek - Of Counsel -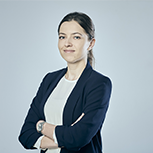 Natalia Piórkowska- Associate -
What do we do?
6-in-1 DPO Shield
The best Data Protection Officer support/outsourcing service on the Polish market. For the price of an "ordinary" DPO, we offer a range of legal and consulting services in the field of personal data protection and information security.
Compliance Shield
Offering compliance of companies' activities to industry regulations and generally applicable laws. Under this service we deal with, among others, codes of conduct, anti-corruption policies, reporting mechanisms, etc.
Discretia App
Facilitates the management of personal data protection processes, such as employee training, incident reporting, authorization management and documentation.
Training
We offer dedicated training on the following issues: DPIA and risk analysis, training for Data Protection Officers, training for managers in the scope of the GDPR, training for employees in the field of personal data protection.
What makes us different?
Our experience and proven methodology of project management allow us to provide legal and consulting services tailored to the needs of every client. After defining the scope of work, we propose subscription pricing of the project, allowing the client to achieve cost control.
Service

Typical service
provider
Discretia
"6-in-1 DPO Shield"
Data Protection Officer
Support / Outsourcing
Inexperienced advisors
Experienced attorney
On-going GDPR support, including GDPR implementation
none or limited
Dedicated software for the management of privacy processes
none
Legal advice in the scope of security incidents, breaches of the GDPR and related disputes
none
Legal advice in the field of cyber security regulations
none
Legal advice on the protection of economic information and business secrets, combating unfair competition
none